From Susan Goldenburg at The Guardian
Washington
Friday July 11, 2008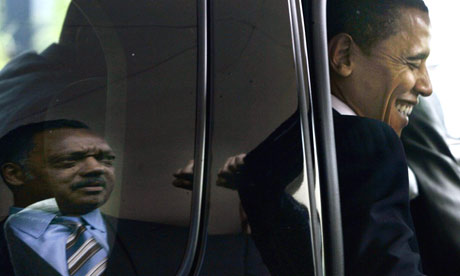 By now, rotated on countless television broadcasts, the image is indelible: Jesse Jackson, once the most influential African-American leader in the US, angrily jabbing his right arm and muttering about Barack Obama across a television microphone that he thought was turned off.
"I want to cut his nuts out," Jackson said to his fellow guest during a broadcasting break. "Barack, he is talking down to black people."
After being rebuked by his son, Jesse Jackson Jr, who is a co-chairman of the Obama campaign, the chastened clergyman spent a second day apologising for his remarks yesterday. Obama, the clergyman told reporters in Chicago, "represents the redemption of our country".
But for all Jackson's efforts to make amends, his remarks seemed to usher in broader questions. What has happened to Obama since he won the Democratic nomination? Has the candidate who promised change, a new kind of politics, turned into a politician like any other? How much will race be a factor for his campaign?
Jackson's comments come at a time when Obama is accused of reversing his stand on the Iraq war, campaign finance, gun control, the death penalty, abortion and wiretapping without court oversight, as he tries to position himself for the election against the Republican candidate, Senator John McCain.
Such rows are potentially damaging to any candidate claiming to have broken with the divisive politics of the past, but Obama has the additional challenge of trying to avoid divisions about race in his quest to become the first African-American in the White House. "There is no benefit to him of reviving the race issue," said one Democratic strategist.
Jackson's outburst did exactly that, revisiting the issue of Obama's place in the African-American community and his views on race only weeks after the controversy surrounding his former pastor, the Reverend Jeremiah Wright. Jackson's remarks also exposed the divisions in the African-American leadership about how Obama is conducting his campaign.
"His comments were a combination of personal ego and ideological dispute," said Clarence Page, a prominent columnist for the Chicago Tribune who has been covering Jackson for nearly 40 years.
The substance of the argument between Obama and Jackson involves the apportionment of responsibility for the breakdown of some African-American families. Obama in a speech last month on Father's Day suggested that African-American fathers needed to take more responsibility for their children - a point made by the entertainer Bill Cosby and others. That line of argument has rankled those on the left, including Jackson, who want to more strongly hold government policies to account for the impoverishment of African-American families.
Some commentators said Obama made matters worse by delivering his speech on fatherhood from a church, only days after breaking with his own church of nearly 20 years and repudiating Wright for making controversial remarks. "By choosing that moment to castigate black fathers, some worry that Obama gave public voice to what white people whisper about blacks in their living rooms and cemented his image as a post-racial saviour at the expense of black men," wrote one blogger, Eric Easter, at EbonyJet.com.
It remains unclear how the divide between Jackson and Obama will more broadly affect his campaign - especially among African-American voters. Obama is counting on high African-American turnout in battleground states.
Michael Feldman, an adviser to the former vice-president Al Gore during his run for the White House, said Obama had limited the potential damage to his campaign by his response to Jackson. "We all try to script and manage campaigns, but they are inherently unmanageable. You end up talking about X when want to talk about Y," said Feldman. "The question is how gracefully do you do that and I think he has been very graceful."
Larry Sabato, an expert on politics at the University of Virginia, believes the rift is unlikely to diminish enthusiasm about Obama's candidacy in the African-American community. "They [African Americans] sense history in the making and they understand that Obama has to do what he has to do," said Sabato.
A similar calculation by the Obama campaign is under way regarding his shift to the centre. Jackson's outburst on Wednesday were mirrored on the blogosphere in an outpouring of anger against the campaign's moves to the right - most recently with Obama voting in favour of a bill sought by the White House that would expand the government's powers to spy on US citizens - which he had previously opposed. Read More