No facts of course from Rachel Maddow. Even pundits are suppose to use them especially when discussing civilian deaths and the agonies associated with war.  Yet we are talking about Air America Radio  with MSNBC host, Rachel Maddow.  It was no surprise that Maddow would side against Israel, that is the European way:
Maddow

: "
But while we're on the wild wide world of scary tour, of course, Israel has started another war. A third straight day of air-strikes on Gaza, the death toll now more than 300 people. Israel says they are doing this to prevent Palestinians from firing rockets into southern Israel. First of all, there's the question of proportionality as to how many people those rockets have killed versus how many people the Israeli bombing has now killed. There's also the issue of effectiveness. In the midst of this massiveair assault killing hundreds of civilians in Gaza, a rocket fired from Gaza today killed a man and wounded seven in the Israeli town of Ashkelon. Effectiveness. Three Israelis were also stabbed by a Palestinian in a Jewish settlement in the West Bank today. Is there a military solution to this problem?"
Anti-Israeli reporters and pundits (such as Maddow) will always take an exaggerated slant against Israel.  No fact checking such as when Maddow said Israel had killed over 300 civilians while the actual number at this writing is 60 for civilians. ...TRedwine
Maddow Criticizes Lack of 'Proportionality' to Israel Hitting Hamas -- While Exaggerating Civilian Deaths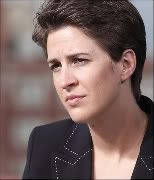 Listening to Rachel Maddow's criticism of Israel for the conflict in Gaza, I was reminded of a cartoon I saw years ago when World War II was still vividly within memory for many Americans.
The cartoon showed a German having built what he expected to be a toy, with the empty box and its assembled contents beside him and a friend standing nearby. The man turned to his friend in exasperation and said -- No matter what they send out, it always ends up a machine gun.
Maddow is like the postwar German industry of the cartoonist's premise -- not much versatility in the product line. Regardless of circumstances leading to renewed conflict in the Middle East, her deconstruction of reality places only Israel on the trigger end of a smoking gun, and guilty for whatever actions led to its use....cont.