John McCain stated today that he would not support the stimulus bill as it now stands.  Obama hopes to have the bill on his desk by mid-February, but it seems that would be unlikely considering the comments that have been coming from Republicans, and even a few noted Democrats. McCain complained that there are no end-times to the money being spent, but most of all there has been no Republican input.
The public isn't too happy with how the first round of money was used by the banking system, but Bloomburg told CNN today that with banks going "belly up" in October, Bush had no choice but to shore up the banks.
The spending bill as it now stands was written soley by House Democrats. Remarks by Pelosi and Obama referring to obvious facts such as, 'We won', will not go far in bi-partisan support...TRedwine
 From Ed Hornick
CNN

start here:
WASHINGTON (CNN) -- President Barack Obama, who arguably won a large chunk of political capital in the 2008 election, is now looking to cash in as he urges Congress to pass a massive economic stimulus package.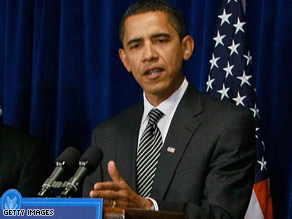 President Obama is urging Congress to pass a massive economic recovery package by February 16.
But questions about how to spend the money and concerns about the last stimulus package under former President Bush, may create a roadblock.
It's something the newly minted president is hoping to avoid. But like most things in Washington, cooperation doesn't come easy.
And that may be why Obama painted an extremely grim portrait of the nation's economy on Saturday -- just hours before he met with his economic team, and days before he meets with Republicans leaders on Capitol Hill.