Only hours later yesterday, Obama's White House Counsel,Greg Craig, advised Obama to take the oath a second time in order to stop any controversy about his being the "legitimate" president.
What has news organizations perplexed is the simple fact, that only hours earlier, Obama was speaking about the transparency and openess his administration would be known for.  Not one major television news service was invited to the second inauguration.  Now, there is no witness via video of Obama's oath of office. The only news people invited were certain "print media".
Perhaps it had to do with the administration being embarrassed.  Still, Obama has made a slew of promises, and the media will be very aware if Obama shows anything except an open-hand.  Perhaps many in the media feel as though Obama "owes" them...TRedwine
By Ed Henry
CNN Senior White House Correspondent




Editor's note: In our Reporter's Notebook series, CNN correspondents reveal stories behind the news. Here, senior White House correspondent Ed Henry describes how a story can change in a moment.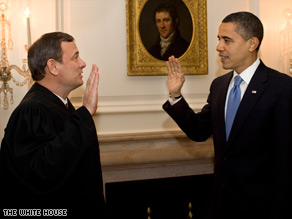 President Barack Obama takes the oath of office -- his second in two days -- in the White House on Wednesday.
WASHINGTON (CNN) -- What a long, strange trip Barack Obama's first full day as president turned out to be.
He began the day pushing for more transparency in government, only to end it by keeping TV cameras out when Chief Justice John Roberts re-administered the oath of the presidency.
All this started at Obama's historic swearing-in on Tuesday, where Roberts flubbed a line in the oath of office, leading to this comical scene, via transcript at CNN.com:
Roberts: ... that I will execute the office of president to the United States faithfully ...
Obama: ... that I will execute ...
Roberts: ... the off -- faithfully the pres -- the office of president of the United States.
Obama (at same time) ... the office of president of the United States faithfully.