Though this latest wire has not been confirmed by anyone as of this writing, it is highly rumored in the blogosphere that Bullwinkle was attacked this morning and injured by a pack of wolves who acted out of sheer audacity after watching Ashley Judd's video on Palin and the wolves.
Below is a picture of one of the wolves taking credit for the Bullwinkle assault.
When the suspect above was questioned why he continues to be a carnivore and hunt helpless caribou, moose,deer, and other horned animals,all Mr. Wolf would say is that he operated as the right arm of the "Eye Of Palin" group, otherwise known as Palin-Pounders, another left-wing fringe group asking for money.
Bullwinkle could not be reached for comment, but sources say Bullwinkle and close friends were innocently out and about in Alaska hunting for scarce willow shoots,and other twigs buried beneath the snow before shortly being attacked by wolves who claim to know Ashley Judd.
Posted: 01:12 PM ET
From
CNN Political Producer Peter Hamby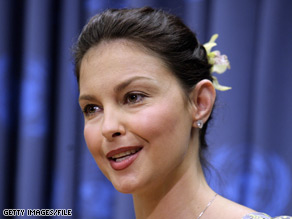 Ashley Judd appears in an environmental ad campaign for the Defenders of Wildlife Action Fund.
(CNN) – Alaska governor Sarah Palin's support for aerial wolf-hunting has sparked a heated cross-country war of words between the governor and an environmental ad campaign fronted by the actress Ashley Judd, with Palin calling the organization funding the ads an "extreme fringe group."
The squabble began Tuesday when the Defenders of Wildlife Action Fund unveiled a campaign called "Eye on Palin," targeting the governor for what they call her "extreme anti-conservation policies."