Shamsia and Atifa were making their way to school last November in Kandahar,Afghanistan when two men approached them throwing acid on the face of the youngest sister,Shamsia, followed next by Atifa. One of the men asked them if they would be returning to school.
The burns were so bad that the scarf melted to Atifa's hair. These two young girls have not dropped out of school. They see it as their only hope in doing something positive for their country.
A Love of education and country....
Since this time , ten men have been arrested and one accused the Pakistani intelligence unit. He said he was paid two thousand for acid burn attacks. Suicide bombings bring higher fees of course.
We don't hear enough about how Laura Bush advocated the education of Afganistan's young women.  The women in this country show a deep love for education, and their families value it as well.
Universal awareness and condemnation will go a long ways in over-coming these radical Islamic actions.
So far,President Karzai has strongly condemmed the crime against these two girls, but also seems very concerned about arousing any contention with Pakistan...TRedwine
Afghan girls maimed by acid vow to go to school
By Atia Abawi
CNN




KABUL, Afghanistan (CNN) -- Shivering in pain and calling for her mother, Shamsia's hands shake uncontrollably, her eyes swollen shut and her skin peeling from terrible acid burns.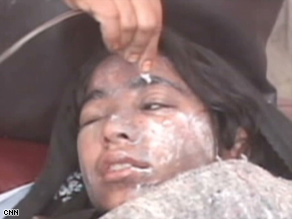 Shamsia and Atifa remain determined to get their education despite the attacks.
The 19-year-old was heading to school along with her 16-year-old sister, Atifa, in Kandahar, Afghanistan. It was a warm November morning last year and their only anxiety was being late for class.
"We saw two men up ahead staring at us. One was standing off and the other one was on their motorcycle. I wanted to go but there was a black object in his hand and he took it out," Atifa says.
The girls thought it was a water pistol. 

 Watch acid attack in Afghanistan »
"He grabbed my arm and asked, 'Will you be going to school anymore?' He then threw acid on my sister and threw acid on me," Shamsia says.
They weren't the only ones attacked that day. Several other teachers and students were targeted on their way to Meir Weis Mena School in Kandahar, the nation's third-largest city and one where the Taliban have long been influential.